Federal Report Cards The Elementary and Secondary Education Act (ESEA), as amended by the Every Student Succeeds Act (ESSA), requires each State education agency to prepare and publish an annual report card with state-, district- and campus-level data. Federal Report Cards for 2019–20 are now available. ESSA also requires each State education agency to report annually to the Secretary of the U.S. Department of Education. The Texas Annual Report to the Secretary is available for 2017-18, 2018-19, and 2019-20. Every district that receives Title I, Part A funding is responsible for distributing the state-, district- and campus-level report cards to each of its campuses, the parents of all enrolled students, and the general public. Prior to 2013, the NCLB Report Card was published annually from 2009–12. For more information about the Federal Report Card and districts' responsibilities related to it, please visit the Title I, Part A webpage. Please contact Chris Mason, Assistant Superintendent at
masonc@quitmanisd.net
to request a hard copy of the report. The Federal Reports can be found using the below link.
https://www.quitmanisd.net/o/quitman-isd/browse/183401

The State of Texas 2019–20 School Report Card for Quitman ISD is now available. This report is required by the Texas Legislature and prepared by the Texas Education Agency. It is to be shared with the parent or guardian of every child enrolled in a Texas public school. The report provides information concerning student performance on the State of Texas Assessments of Academic Readiness (STAAR®), as well as information on student enrollment, class size averages, and financial expenditures. Due to COVID-19,STAAR® assessments were cancelled for the 2019–20 school year. Therefore, several data points have not been updated, including STAAR® and academic growth data.  The information contained in the School Report Card is required by state law and is briefly described in the enclosed "2019–20 School Report Card Definitions." The report for our school may or may not have all the information described because the information presented depends on whether the school is an elementary, middle, or high school. State law requires that the School Report Card display information about the state, the district, and the school. Where possible, the information must be reported by race/ethnicity and socioeconomic status of the students and must include at least two years of results. The School Report Cards can be found online at:
https://www.quitmanisd.net/o/quitman-isd/browse/183379
Parents may also request a paper copy of the report by contacting Chris Mason, QISD Assistant Superintendent, at the Administration Office. Parents may also contact their child's campus administrator with questions, comments or concerns.     Spanish Version:  Estimado Padre de Familia:Adjunto a esta carta encontrará una copia del reporte de las Calificaciones Escolares del Estadode Texas 2019–20 para Quitman ISD. Estas Calificaciones Escolares son requeridas por laLegislatura del Estado de Texas y preparadas por el departamento de educación estatal. Estereporte debe ser mandado a los padres o al guardián/mentor de cada estudiante inscrito en unaescuela pública. Estas calificaciones ofrecen información concerniente al progreso académico delos estudiantes y también información sobre el número de inscripciones estudiantiles, tamañopromedio del salón escolar, y gastos escolares.La ley estatal requiere que la información en estas calificaciones sea diseminada. Ustedencontrará una breve descripción en el adjunto "Definiciones de las Calificaciones Escolares2019–20." El reporte que ha recibido puede o no contener toda la información descrita en estasdefiniciones pues el reportaje de estos datos depende de si la escuela es una primaria, secundariao preparatoria. También puede encontrar estas calificaciones (school report card) en el internet bajo 
https://www.quitmanisd.net/o/quitman-isd/browse/183379
Los padres también pueden solicitar una copia impresa del informe comunicándose con Chris Mason, Asistente del Superintendente de QISD, en la Oficina de Administración. Los padres también pueden comunicarse con el administrador del campus de su hijo si tienen preguntas, comentarios o inquietudes.


Quitman Junior High takes first place in district UIL Academic Meet.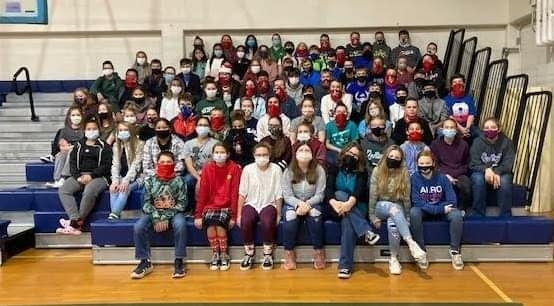 Quitman Hometown Christmas is in full swing. Hope to see you downtown by the courthouse!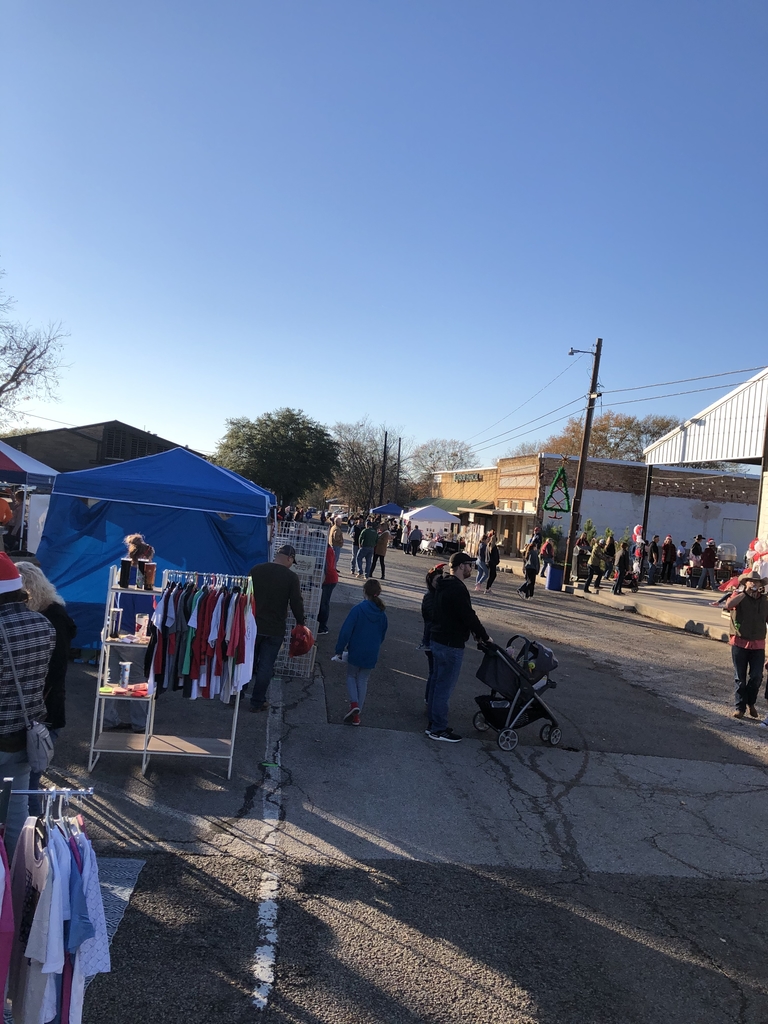 QR Code to Purchase Quitman High School Basketball Tickets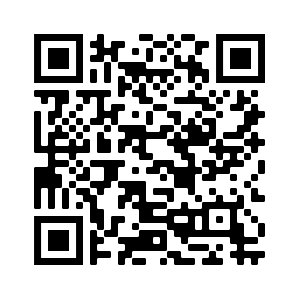 QISD names alumni Shane Webber as New Athletic Director. The board approved the hire at a special called meeting tonight.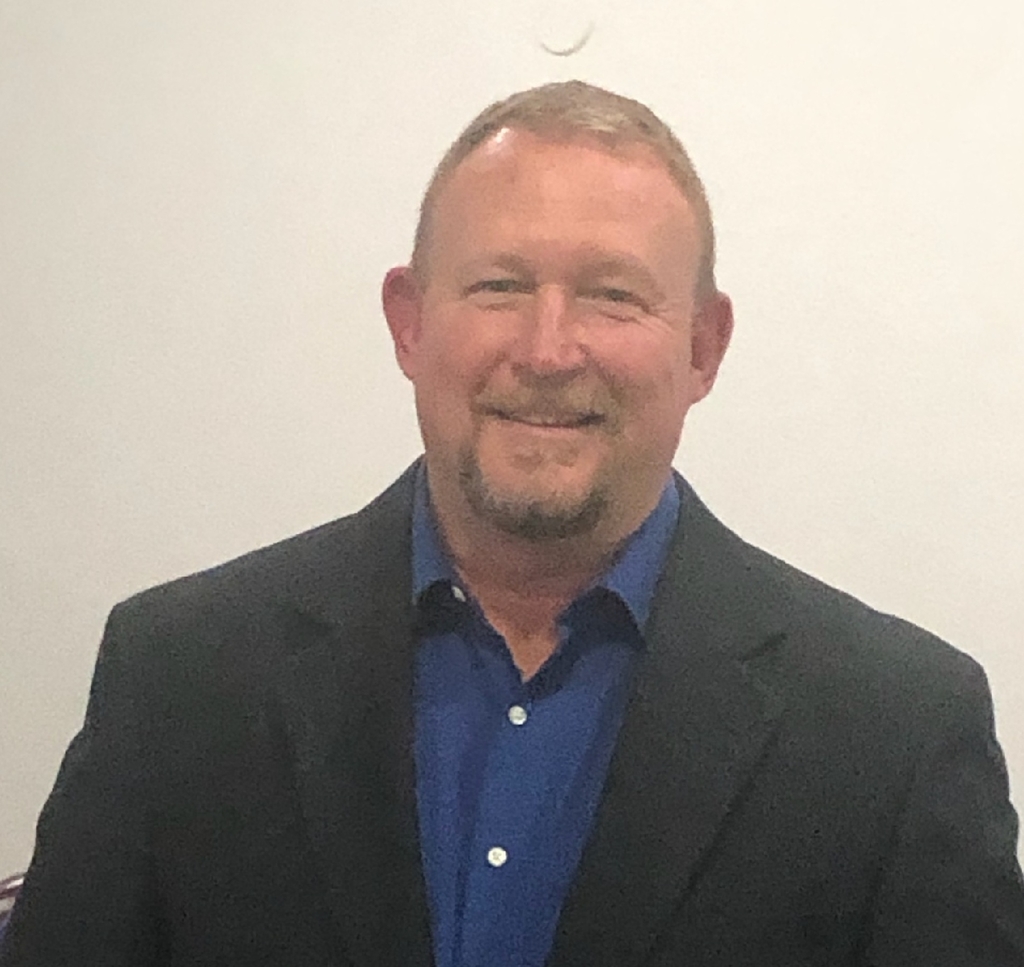 Quitman FFA's Greenhand Quiz Team earns State LDE Championship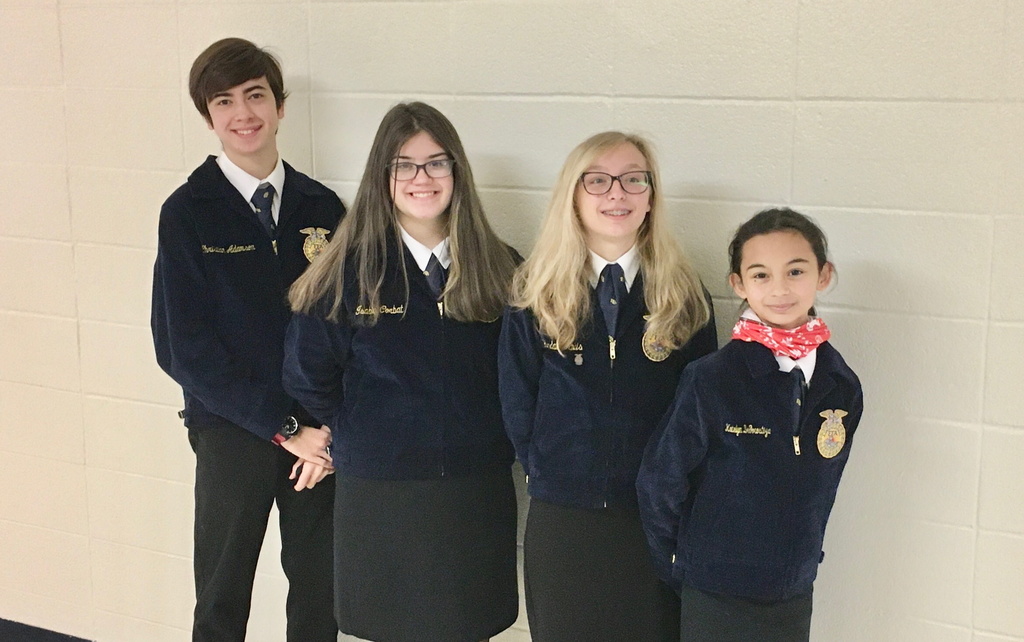 JH Boys Basketball tonight VS. Winona: There will not be a 7B game tonight, 7A will start at 5:00pm with 8th Grade to follow.

JH Basketball Announcement: The JH boys basketball games tonight vs Winona will begin at 5:00 pm. There will be no B team games.
Tonight's (Friday, Dec. 4th) Junior Varsity and Varsity Girls Basketball Games vs. Cumby have been cancelled.

Basketball Ticket Sales Announcement Beginning December 5th QISD will begin selling home basketball tickets online. 1. Tickets to Sub Varsity and Varsity games can be bought online at eventbrite.com, or by following the posted link at:
https://www.eventbrite.com/o/quitman-isd-31945932055
. Spectators will show tickets at the gate via phone or printed paper copy. 2. General Admission tickets will be made available to the general public three days before the contest on a first come first serve basis. There will be no ticket sales at the contest. 3. The gym will be cleared before the start of the Varsity Contests when both the boys and girls teams play at home. 4. No Passes will be accepted this year. This includes senior passes, UIL passes, and district passes.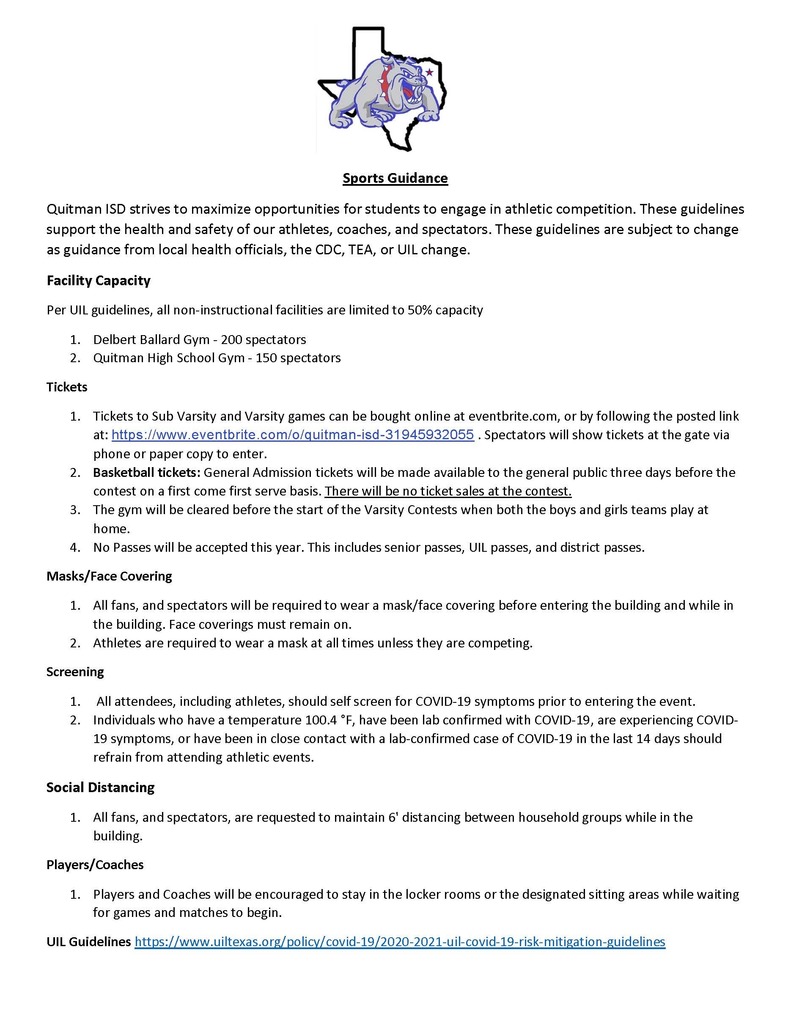 Attention: JH Boys Basketball tickets must be purchased online for tonight's game at Chapel Hill Mt. Pleasant. Please use the following link and "click" buy tickets. There will be no tickets sold at the gate.
https://www.chisddevils.com/44897

Attention: the junior high boys basketball games scheduled for today have been canceled.

NOTICE OF THE QUITMAN INDEPENDENT SCHOOL DISTRICT'S DISTRICT EXCELLENCE COMMITTEE'S REQUIRED PUBLIC MEETING Quitman ISD will hold a public meeting at 5:00 p.m. December 2 , 2020, in the QISD Board Room. The purpose of the meeting is to review the 2019-2020 Texas Academic Performance Report
It was a great day today for Quitman FFA at Area LDE competition! We had 8 teams competing today and FOUR are advancing to STATE! Results as follows: Ag Advocacy - 7th *Ag Issues - 1st (advancing) Greenhand Skills - 3rd *Senior Skills - 1st (advancing) Greenhand Chapter Conducting - 6th *Senior Conducting - 2nd (advancing) Radio - 5th *GH Quiz - 1st (advancing) Quitman FFA member participants in today's LDE competition are: HS: Kaiti Kelley Lucy Brannon Keeley Glidewell Lindsey Hornaday Reagan Hornaday Lizzy Herring Rhiana Bradshaw Kennedi Howle Sarah Smith Kennedi Elmore Joisalyn Tarno Mattison Smith Maddie Fetterolf Lila Park Christian Adamson Kathryn Hudman Brooklyn Marcee Kameran Farnham Logan Simpkins Macy Frazier Alexis O' Neal Blake Morris Bobby Irwin Cole Richey Marcus Pollard JH: Katy DeGorostiza Kendall Davis Daniel Kernes Averi Ryan Ashley Pollard Gabby Chaney Nicholas O'Neal Sophia Reynolds Isabel Corbat Congratulations to ALL. We are so proud of you!!!

Please see the attached Fall Sports Guidance for Spectators. We hope you can make it out to support our Bulldogs. Gate prices for Basketball will be $4 for adults and $2 for students.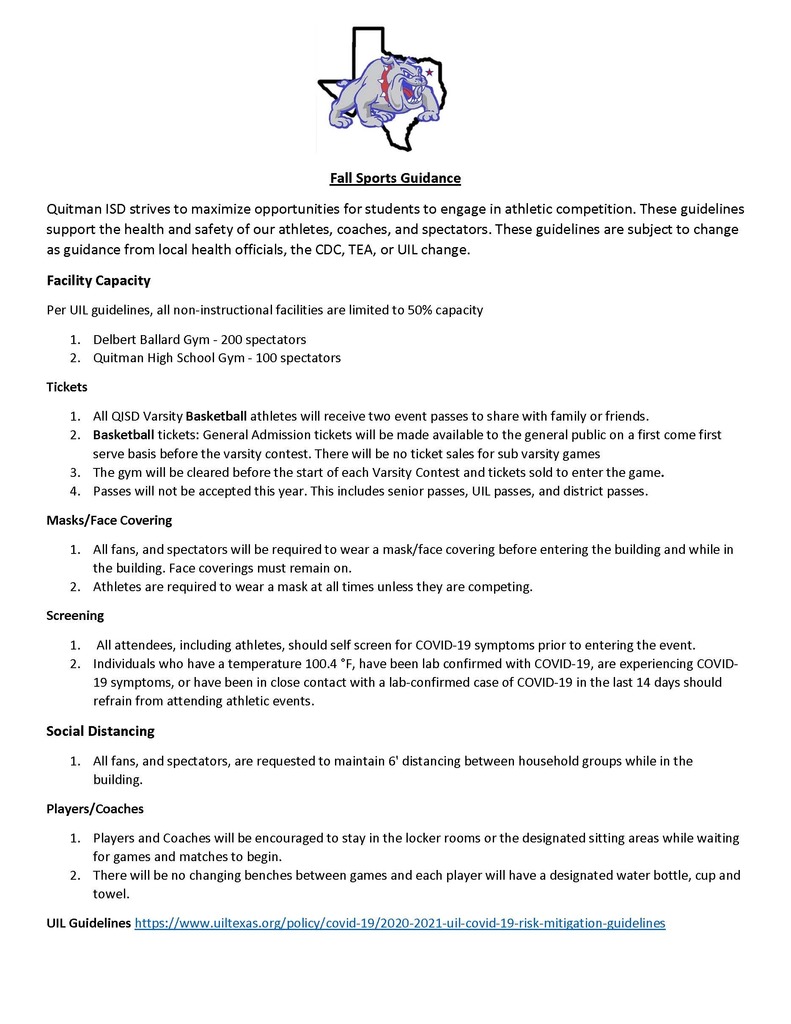 Please join us in supporting the Proud Blue Band! They will be performing in Sulphur Springs today at 9:30. You can watch live with the following link:
http://easttexastoday.com/
Good Luck BAND!!!!