The Softball game scheduled for tonight (Friday, 04/16/2021) vs Mineola has been rescheduled for Monday (04/19/2021) at 6:00p in Quitman.
Baseball game tomorrow (04/16/2021) against Mineola will be played in Grand Saline at 4:00pm
Start time for Baseball game Friday (04/16/2021) vs Mineola as been changed to 7:00p.

NOTICE OF THE QUITMAN INDEPENDENT SCHOOL DISTRICT'S SAFETY AND SECURITY COMMITTEE PUBLIC MEETING: Quitman ISD will hold a public meeting at 12:00 p.m. April 15th in the QISD Board Room. The purpose of the meeting is to review and discuss District Safety and Security.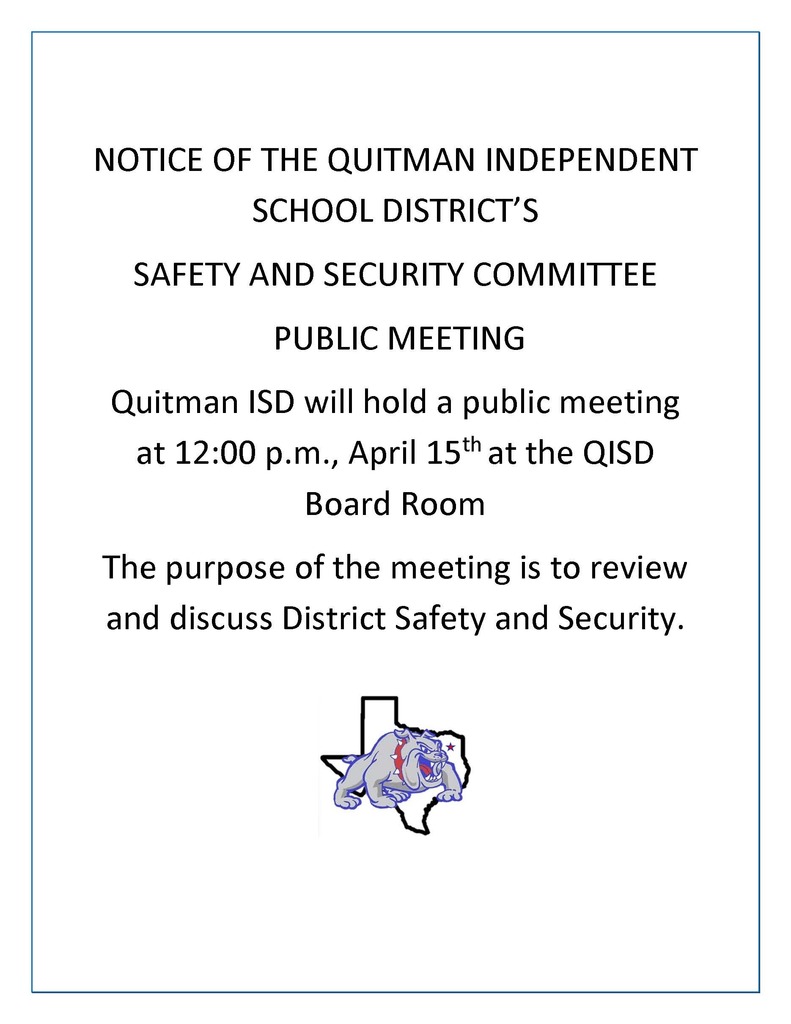 Softball game scheduled for tonight (04/09/2021) in Mt. Pleasant has been cancelled.

Dear Parents of Students Taking Online STAAR Tests, The vendor for the online versions of the 4th, 7th, and English I EOC STAAR tests had technical difficulties today across the entire state. This interrupted testing for almost all of our 7th grade and English I EOC students. Our 4th grade students took the assessment on paper and were able to complete testing. We had to suspend online testing for the day at both the Junior High and High School. This is frustrating and disappointing for students and teachers who have been working hard and preparing for these exams. We hope to learn more from the Texas Education Agency later today or in the coming days on how school districts will proceed with rescheduling the tests. As soon as we know the next steps, we will communicate that to you.
The time for the softball game tonight (04/06/2021) at Mt. Vernon has been changed from 6:00p to 6:30p.

Parents and Visitors, please be aware that animals are not allowed on QISD property. This includes the baseball, softball , and tennis courts. Licensed Service animals are allowed.
Baseball Tuesday (3/30/2021) at Harmony time has been changed from 7:00p to 5:00p.

Dear QISD Parents, Staff, Faculty and Friends, Today at a special called board meeting the QISD Board of Trustees approved the recommendation to lift the mask mandate for QISD for all outdoor and for all indoor events, including regular classroom instruction, beginning Monday March 29th. Please note: Any Teacher, Employee, or Student will have the right to continue to wear their mask at all times if they choose to do so.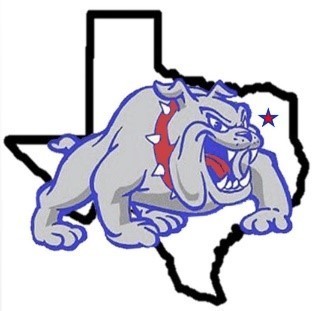 The Junior High BOYS AND GIRLS district track meet will be on Monday, March 29th at Mt. Vernon. Originally, the girls were to compete on Monday the 29th and the boys were to compete on Tuesday the 30th, this has been combined.
Softball game tonight(3/26/2021) vs. Winona in Quitman has been cancelled.
Softball game tonight (Thursday, March 25) in Rains. 7:30p start time.
The time for the Friday (3/26/2021) Baseball game against Winona in Quitman has been changed from 6:00p to 7:00p.
Softball Game Scheduled for today (3/15/2021) at MP Chapel Hill will be played in Quitman.
Baseball game at MP Chapel Hill on 3/16/2021 has been rescheduled to begin at 4:00pm (instead of 6:00pm).

Early Voting Hours: April 19-20, 2021 7am – 7pm April 21-23, 2021 8am – 5pm April 26-27, 2021 8am – 5pm Annex Building 200 W Bermuda Quitman, TX 75783 May 1, 2021 Election Day Polls open from 7 AM – 7 PM
Golf scheduled for March 1st at Mineola Country Club has been rescheduled for March 5th.
Baseball game scheduled for today (03/02/2021) at Alba-Golden has been cancelled due to field conditions.