Substitute Teacher Training Information: Returning substitutes will meet at 10:00 am on August 4th at the Administration Building(600 N. Winnsboro St.) in the BoardRoom. New Subs will meet at 9:00 am on August 4th at the Administration Building in the Board Room. They will need to bring their driver's license, social security card, and their high school diploma or GED. If they are degreed or certified, they will need to request an official copy of their transcripts, and have it emailed to
haskettt@quitmanisd.net
.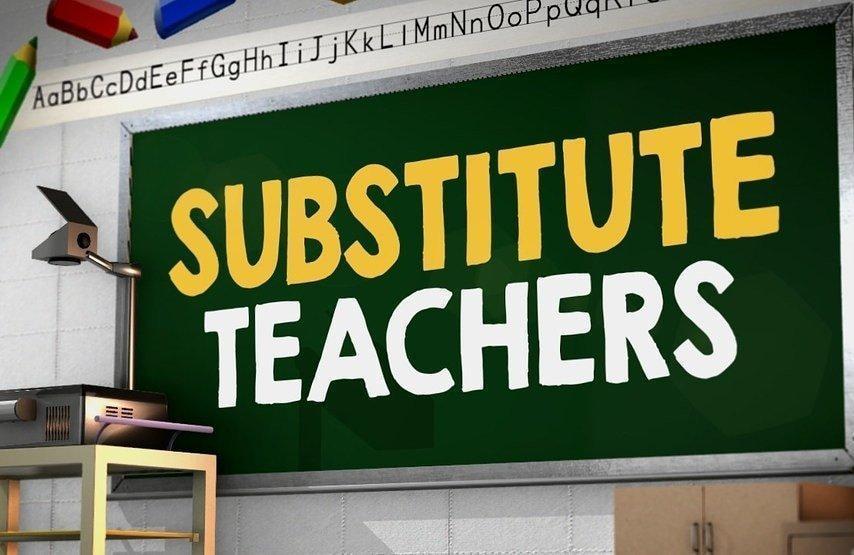 Parents/Guardians: STAAR and EOC test results for 2022 are now available. To access your child's scores, visit TexasAssessment.gov and enter your child's unique access code.
School is quickly approaching! Be sure to register your student. You can register online now at
www.quitmanisd.net
or in person at the dates and times listed.
Today's introductions are both Quitman Alumni, and both will be at the elementary school next year. Let's welcome Heather Moore and Shiloh Brumley back to the Bulldog family!! We're so glad to have you here.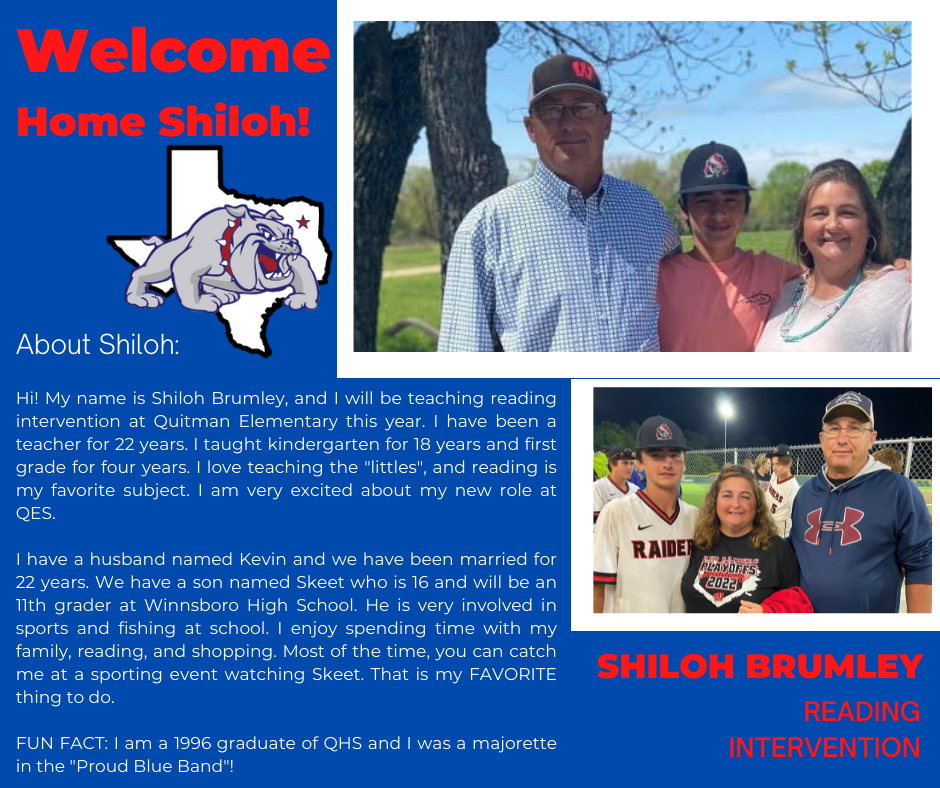 Correction Notice: The attached agenda has been corrected to state Safety and Security Committee. This is NOT a school board meeting. Quitman ISD will hold a public meeting at 5:30 p.m., July 26 at the QISD Board Room located at 600 n Winnsboro, Quitman TX, 75783 The purpose of the meeting is to review and discuss District Safety and Security.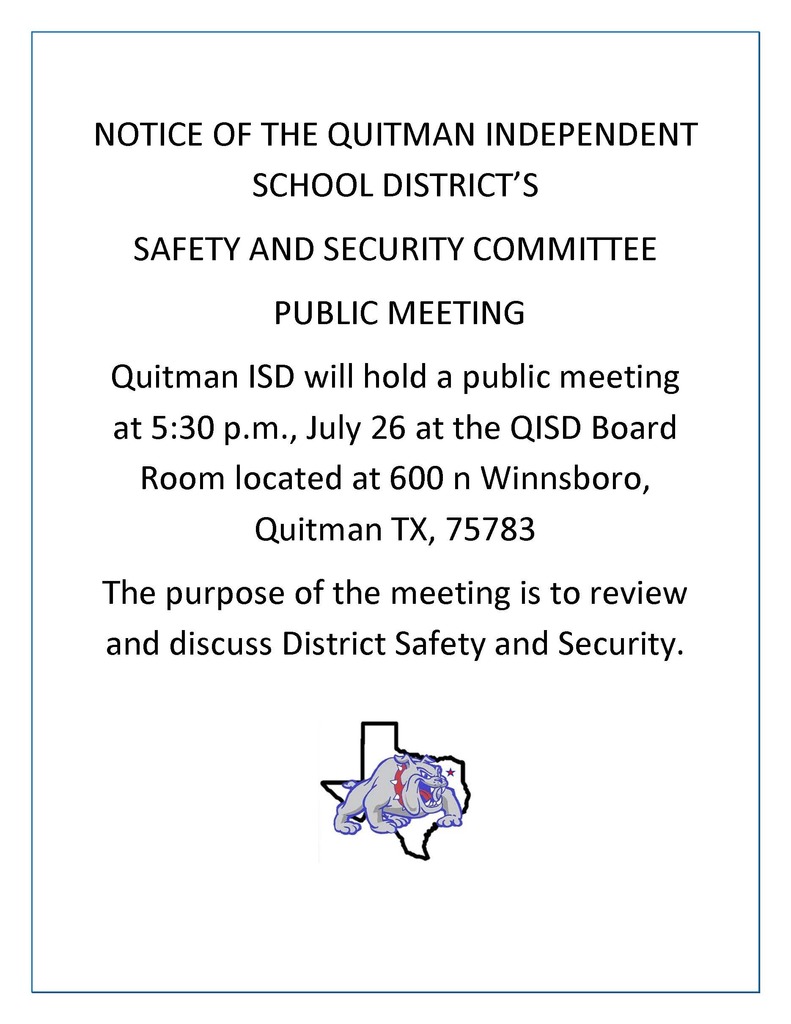 Welcome to the Bulldog family, Coach Wilson!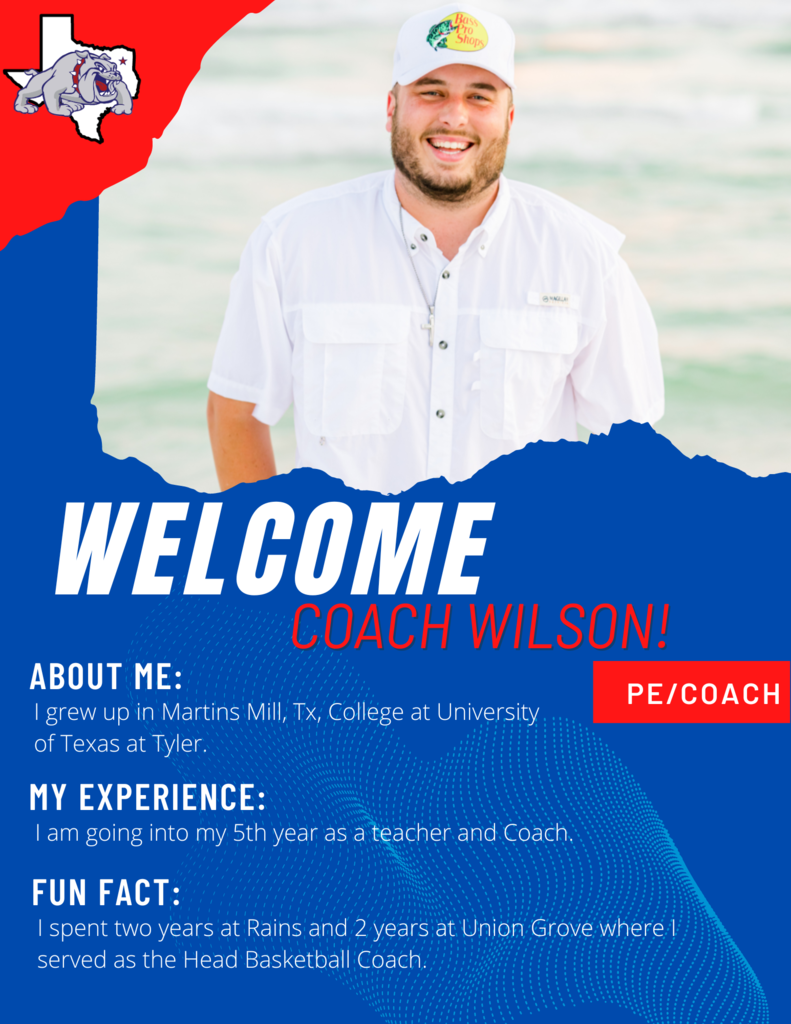 Welcome to Bethany O'Daniel!!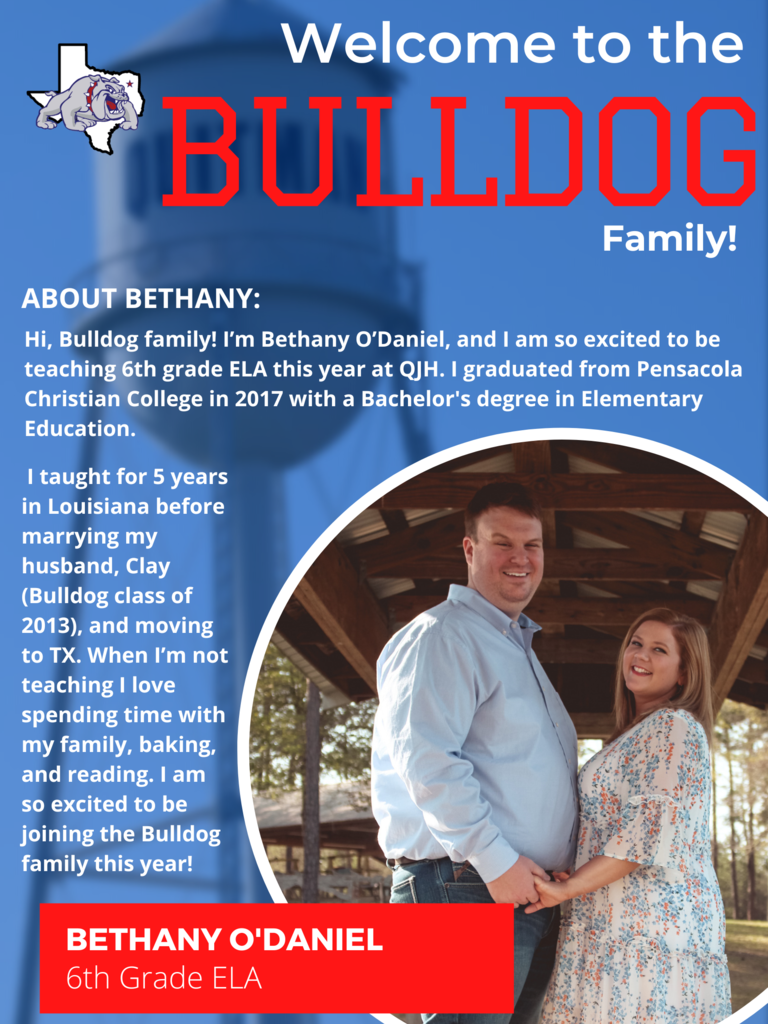 Welcome to our campuses, Nurse Vance!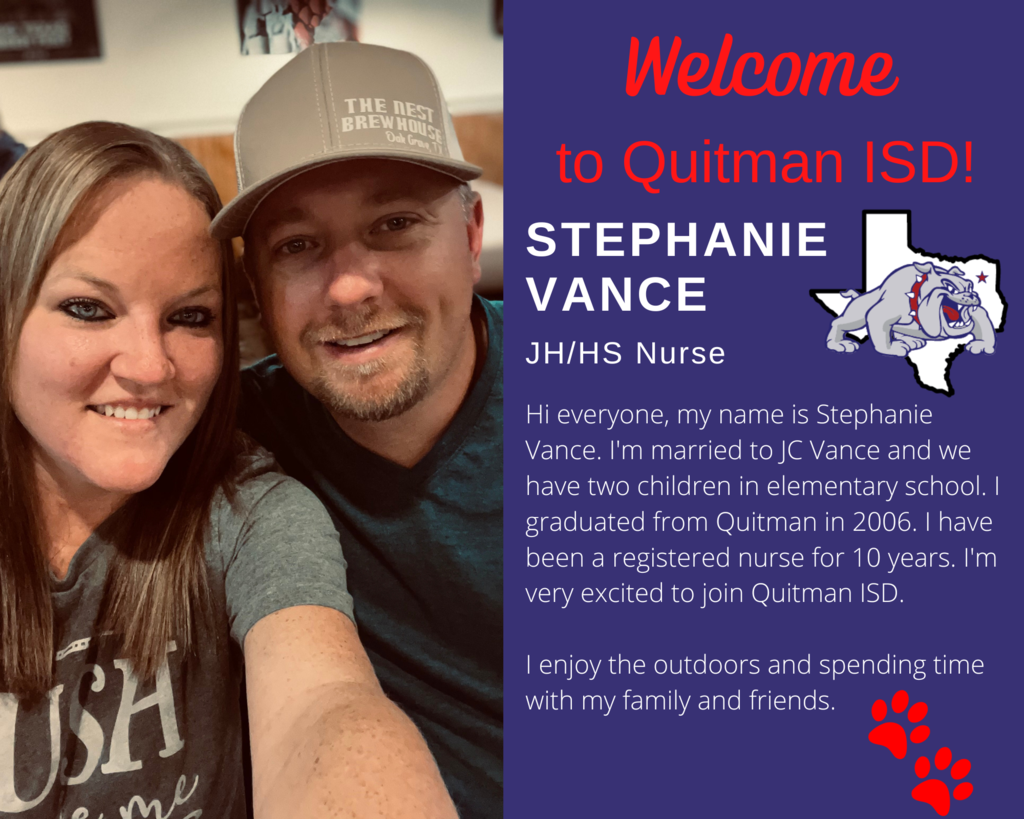 Welcome to the Bulldog Family, Coach Leed!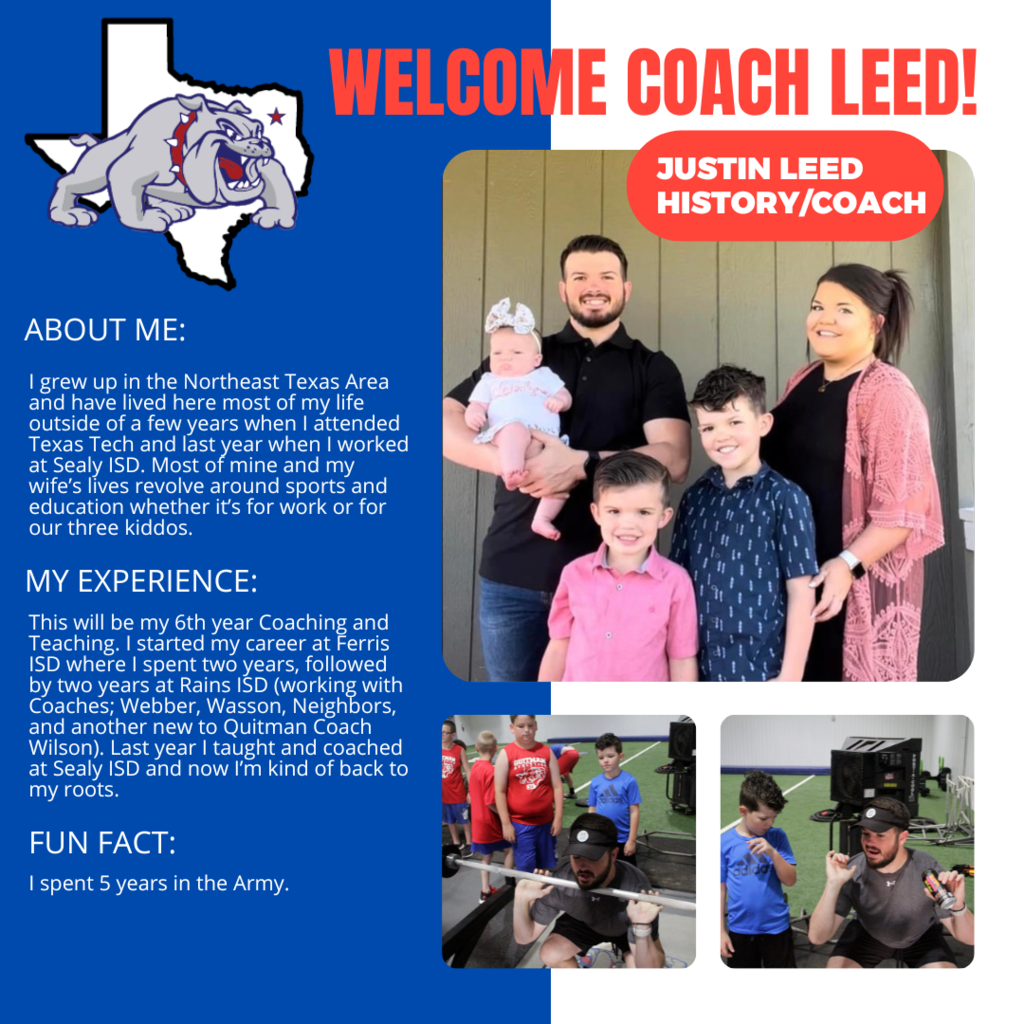 Welcome home to alumni Cammie Hicks!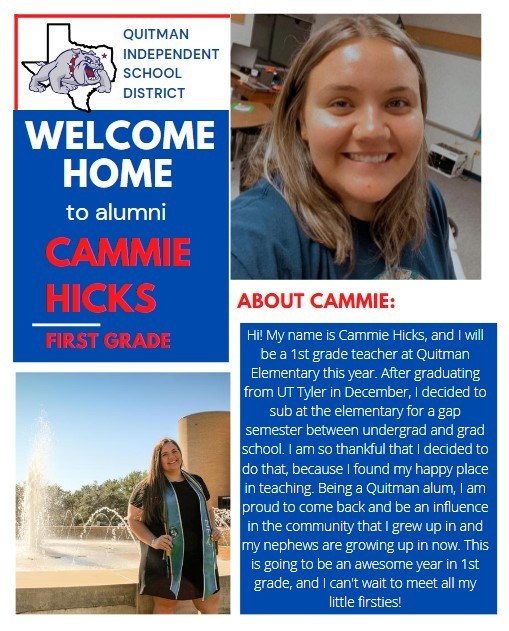 Welcome to Quitman!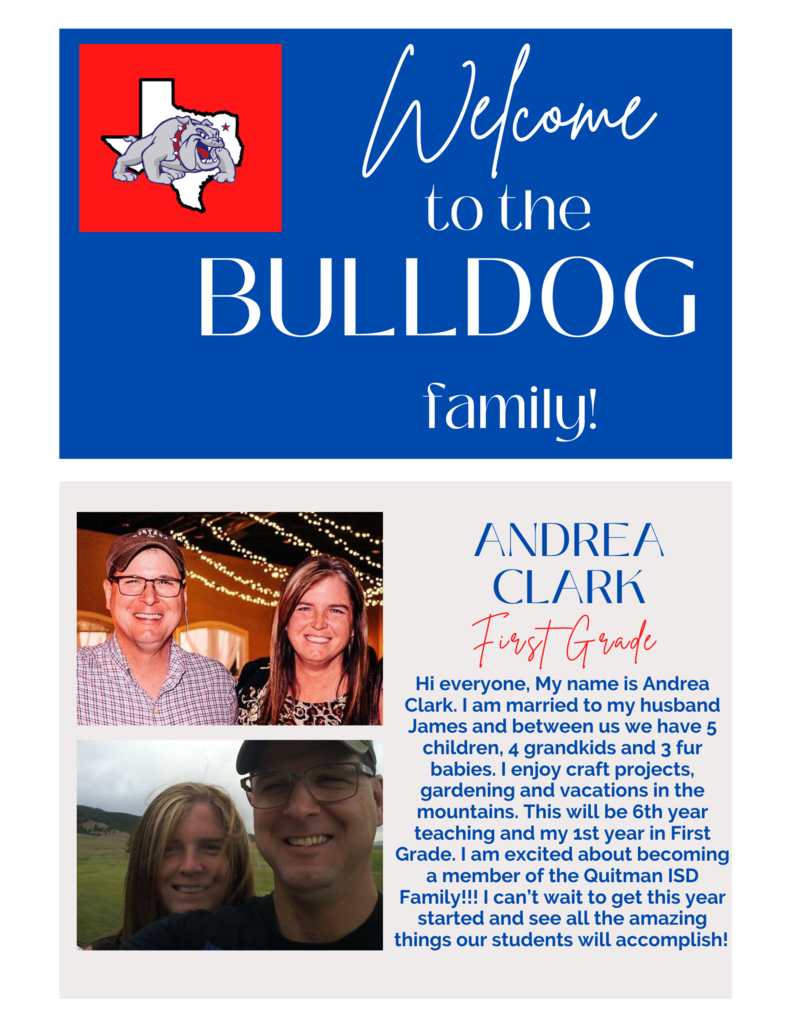 Welcome to Quitman!
Be sure to mark your calendars and come support this great event that gives back to the the foster kids within our district and whole county!
Welcome to the Bulldog family!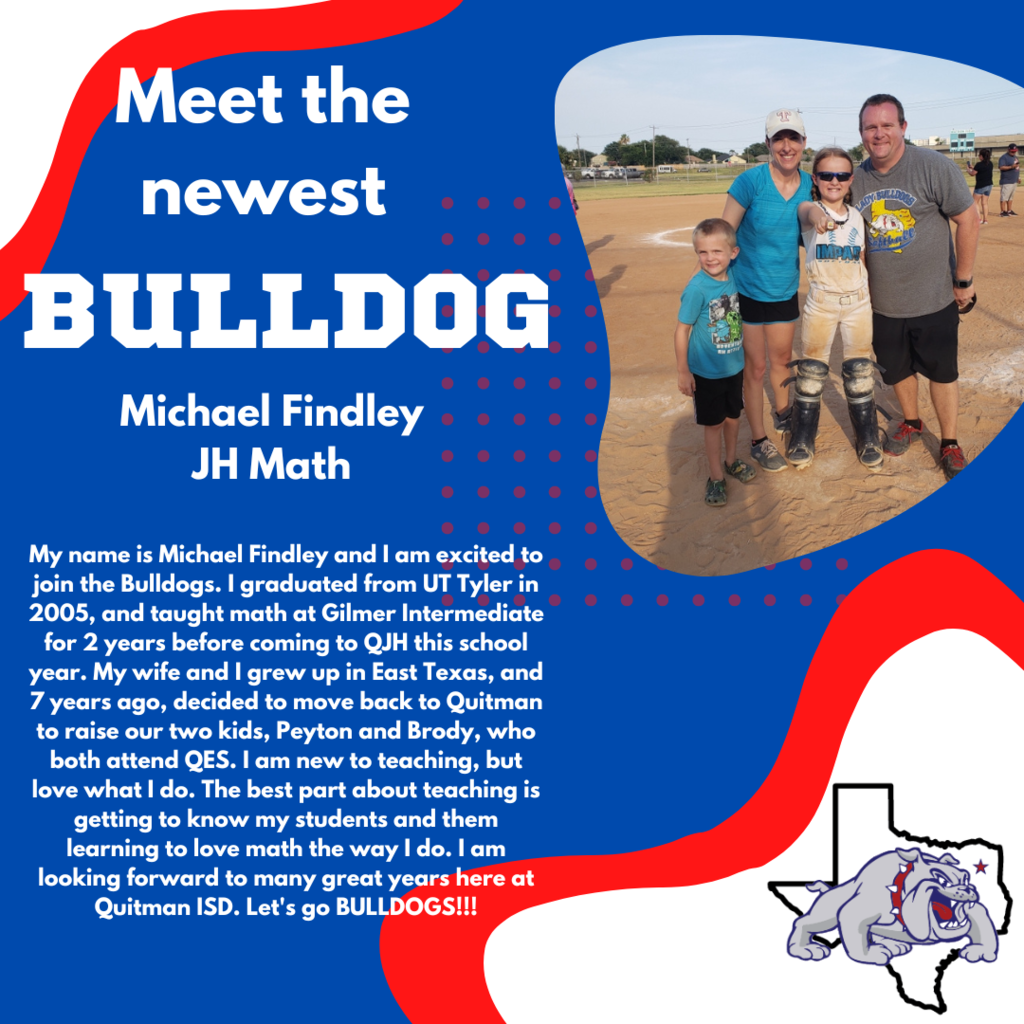 Welcome to QISD! We're so glad you're here!
Come join the team! We are currently accepting applications for all positions--instructional and support jobs, both hourly and professional. We greatly encourage anyone interested to apply. For more information, check out:
https://www.quitmanisd.net/page/job-openings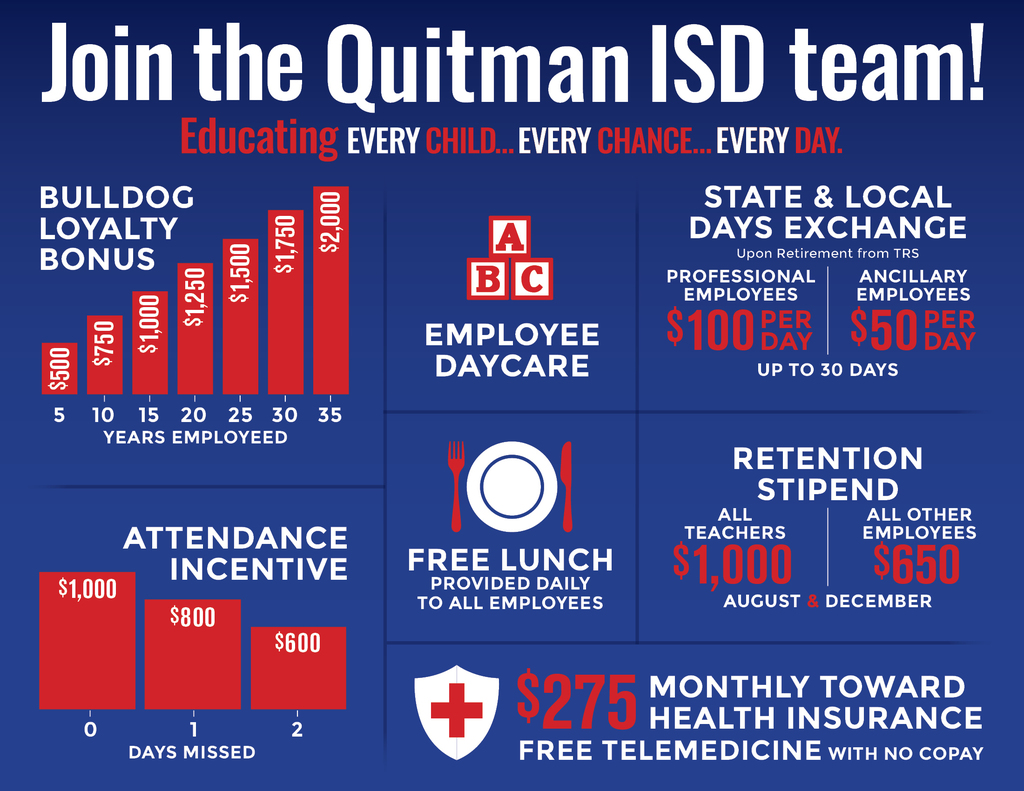 Public Notice: Quitman ISD will hold an Every Student Succeeds Act Private Non Profit general information meeting by appointment on June 8th and 9th. Please see the attached public notice for more information.
Reminder: Quitman ISD's summer feeding program begins next Monday and runs through June 30th. Children ages 0-18 are welcome to come to the JH/HS campus cafeteria (enter through the back doors) from 8a.m.-8:45a.m. for breakfast each morning, and 10:30a.m.-12:30p.m. for lunch. The meal program is available Mondays through Thursdays from June 6th through June 30th.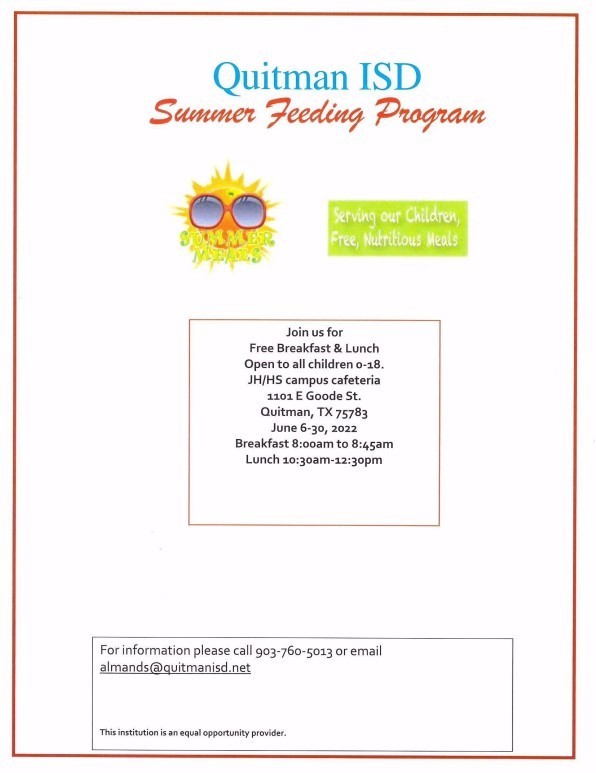 Special thanks to Lieutenant Anita Tucker and ALL the officers at the Quitman Police Department for their unwavering presence every day on our campuses. We especially thank you for the extra presence this week, making sure everyone knew they were safe.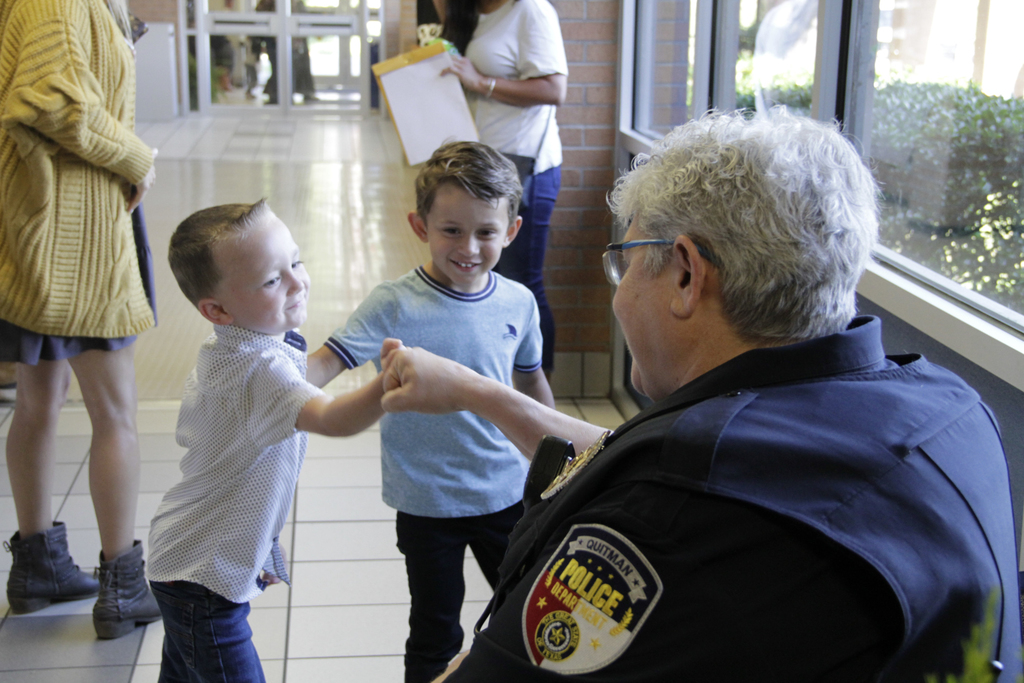 QISD Notice of Intent to apply for State and Federal Grants.