Softball game tonight(3/26/2021) vs. Winona in Quitman has been cancelled.
Softball game tonight (Thursday, March 25) in Rains. 7:30p start time.
The time for the Friday (3/26/2021) Baseball game against Winona in Quitman has been changed from 6:00p to 7:00p.
Softball Game Scheduled for today (3/15/2021) at MP Chapel Hill will be played in Quitman.
Baseball game at MP Chapel Hill on 3/16/2021 has been rescheduled to begin at 4:00pm (instead of 6:00pm).

Early Voting Hours: April 19-20, 2021 7am – 7pm April 21-23, 2021 8am – 5pm April 26-27, 2021 8am – 5pm Annex Building 200 W Bermuda Quitman, TX 75783 May 1, 2021 Election Day Polls open from 7 AM – 7 PM
Golf scheduled for March 1st at Mineola Country Club has been rescheduled for March 5th.
Baseball game scheduled for today (03/02/2021) at Alba-Golden has been cancelled due to field conditions.

The Quitman ISD is now planning for the Gifted and Talented Education program for the 2022-2022 school year. The G/T program is designed for students with exceptional intellectual and creative thinking abilities. Anyone wishing to nominate a student attending Quitman ISD in kindergarten through eleventh grade is asked to go by the school office and request a copy of the nomination form.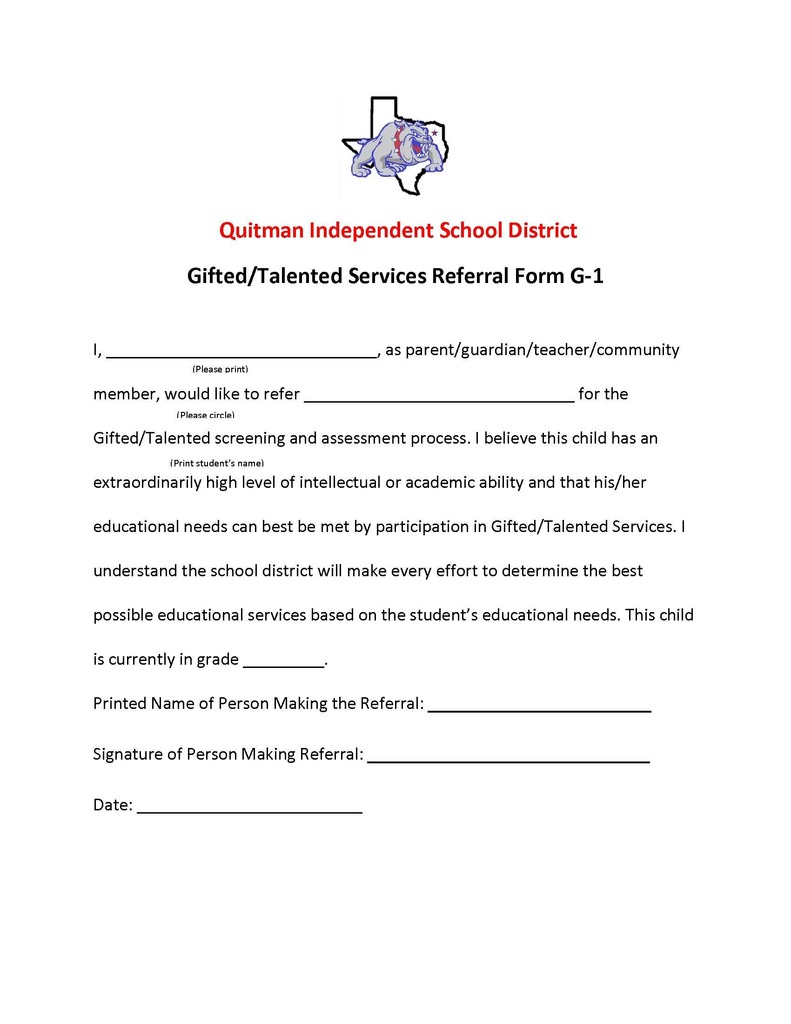 QISD is ready to have our students return to school this morning. Parents remind your children to watch for small ice patches as they are walking to, and getting on the bus this morning. There were only a couple of spots that remained problematic on bus routes yesterday afternoon. On Route 8 CR 3170 and CR 3163 and on Route 10 CR 3256. Parents and guardians please contact Ms. Bradshaw at the bus barn if you have any issues this morning. 903.763.5000, press Option 5.

QISD will remain closed through Friday, February 19, 2021 due to road conditions and anticipated additional snow and ice. School will re-open on Monday, February 22, 2021. Buses will run as normal.



QISD will be closed Monday, February 15th and Tuesday, February 16th due to worsening weather conditions. Dangerously low temperatures are expected over the next 72 hours with additional frozen precipitation. We will continue to monitor the situation as the week progresses. Thank You,
Playoff Bound - Lady Bulldogs Send-off to play DeKalb at Prairiland tonight at 8:00pm.



Weather Update: Buses 6 and 57 cannot safely cross the bridges on 154 and 2966; therefore those to routes are not running. TxDot has indicated that they will be treated but cannot give us a time. QISD will open two hours late as scheduled; however, we encourage parents to use their own discretion in transporting kids.

Quitman ISD will delay the start of school by two hours. Buses will be delayed two hours. Please be safe this morning!
Girls Basketball Playoff Game will be against DeKalb at Prairiland High School (466 FM 196 South, Pattonville, Tx.) on February 11th at 8:00PM. Tickets will be sold at the door. 300 seats on each side of the court.
Girls Basketball Playoff Game will be at Prairiland High School (466 FM 196 South, Pattonville, Tx.) on February 11th at 8:00PM. Tickets will be sold at the door. 300 seats on each side of the court.
Lady Bulldogs Basketball advance to first round of playoffs. First time to advance out of district play since the 2011-2012 season. Date and location of next game has not been determined. We will keep you informed!