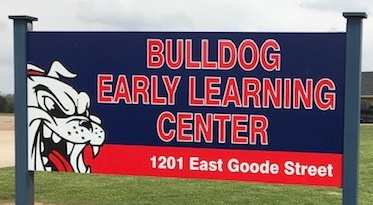 Providing High Quality Childcare
for Employee's Children Ages 6 Weeks to 12 Years
Mission
Bulldog Early Learning Center will meet the developmental, emotional, and physical needs of all early learners in our care.
Hours of Operation
Monday – Friday 7 am – 5pm.
The center follows the QISD District Calendar with extended days the week before, and the week after the official calendar.
Tuition & Fees
The center charges an annual enrollment fee of $25 per child. Center Fees are calculated based on a weekly rate for the year.
All tuition payments are payroll deducted monthly and over a twelve month basis.
Staff
All staff are employed by QISD and are CPR and First Aid Certified.
All staff are required to complete 48 hours of childcare-related training their first year and 24 hours per year thereafter.

Crystal Williams | Director
williamscr@quitmanisd.net
(903) 760-5170
1201 E Goode Street
Quitman, TX 75783