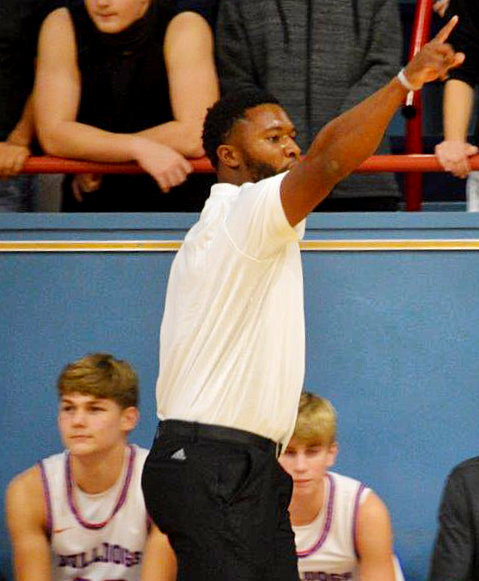 Fields Heads Quitman Basketball Program
Courtesy of Wood County Monitor
Monday, December 07, 2020
Brandon Fields is on a mission. The 26-year-old West Columbia High School and Texas A&M-Commerce graduate and Lion basketball player wants to make Quitman basketball relevant again.
Fields has a team this year which has just one senior, four juniors and seven sophomores on the varsity squad.
Fields was named head basketball coach at the end of the school year in the spring. He is originally from Brazosport but went on to play basketball at traditionally powerful West Columbia High School. From there he played and graduated from A&M Commerce, where he followed the legacy of his father, Bennett Fields, who starred at the university in the 1980s.
Fields ended up staying in the East Texas area because it was at A&M-Commerce he met his fiancé, and mother of their three children, Hannah Pinnell. Pinnell also comes from a rich basketball tradition playing for the Lady Raiders of Winnsboro where her father, Steve, was athletic director and head football coach for two decades. Hannah was a member of one of the Winnsboro teams which made it the state finals in the past, and she is also a top athlete as well as an educator. Their children are three-year-old daughter Briley and four-month-old twins Bria and Brandon, Jr.
Fields, a 2017 college graduate, took his first coaching job at Grand Saline.
"I was there two years and then last year I came to Quitman. My goal was always to be a head basketball coach. I told my Dad I started at 23 and would give it a maximum of five years to get a head coaching job. If I wasn't a head coach then, I thought I might need to be in a new field," Fields explained. "Kobe Bryant is my favorite player. He was just wired different; his expectations were always high and so are mine. My Dad has always influenced me. He was a really good basketball player and he also played at A&M-Commerce in college."
Fields originally wanted to be a trainer. "I did want to be a physical therapist and work with basketball players as a trainer. But after my first year at college I changed it. I thought about maybe physical training and coaching," Fields noted. "Going into my senior year of college we had an elite camp for high school kids. My coach let us do some coaching in the camp. I was able to see some kids who were like diamonds in the rough who were good but had been overlooked. After having success coaching at the camp, I thought I could actually be good at this and wanted to give it a try."
Fields pointed out his lone senior, Aiden Corrior, is stepping up in a leadership role. "I am not putting pressure on him to score 25 points a game although he is capable, but he has to lead by making sure everyone stays calm and collected on the floor," Fields related. "He just doesn't get rattled and upset."
Fields started looking forward to this season as soon as he found out he was the new head coach.
"Last year we ran the dribble-drive offense in bits and pieces," he said. "When I found out I got the head coaching job I researched and researched to find what was best for us. With the guys I have, I have seven guards on this team. I was hoping and praying that I would get this job when we found out Coach (Jim) Reid was not coming back. I am blessed to have the job. I appreciate Coach Oakes, he is one of the reasons I came here."
Fields talked to one of his assistants Laettner Greenhill about their team. "I asked Coach Greenhill how he thought we might be this year. He said he believed our guys were going to 'shock the world' and that has become our motto," Fields asserted. "Basketball season is a marathon, not a sprint."
Fields made the Bulldog non-district slate tough to get his young team prepared for the district wars. "Our toughest stretch will be after Thanksgiving because we will be on the road for over a month for seven to eight straight games. That is going to tell me a lot about this team," Fields related. "I have faith in the kids and I think that long road stretch will help us to be ready for our first district game at Harmony December 21."
Fields said his team will not ever lack for effort.
"We plan to go all out for 32 minutes every game. I want our kids going 110 miles per hour every game," the coach said. "Offensively I'm not that worried, but we need to continue to improve and grow on defense."
Moving into a new basketball district is always tough, but District 12-3A is one of the toughest in the state. District opponents this season are Mineola, Mt. Vernon, Mt. Pleasant Chapel Hill, Harmony, Winnsboro and Winona.
"Mineola will be the team to beat. They have a really solid team that will be a top 10 team in the state. Mt. Vernon will be solid again this year and Chapel Hill is going to be tough," Fields informed. "I think the pre season rankings have Mineola, Mt. Vernon, Chapel Hill and Winona picked for the four playoff teams, but Harmony has good athletes and Winnsboro is a rivalry who always plays us tough. I also believe we are good enough to make a run at a playoff spot. From top to bottom this district is very solid. I think just by the way we play it will make it hectic for the other teams."
Fields believes in his team. "I told my guys Quitman hasn't made the playoffs in five years. It's time for us to change that. Nobody works any harder than this team does in practice every day," Fields revealed. "I am excited to be here!"