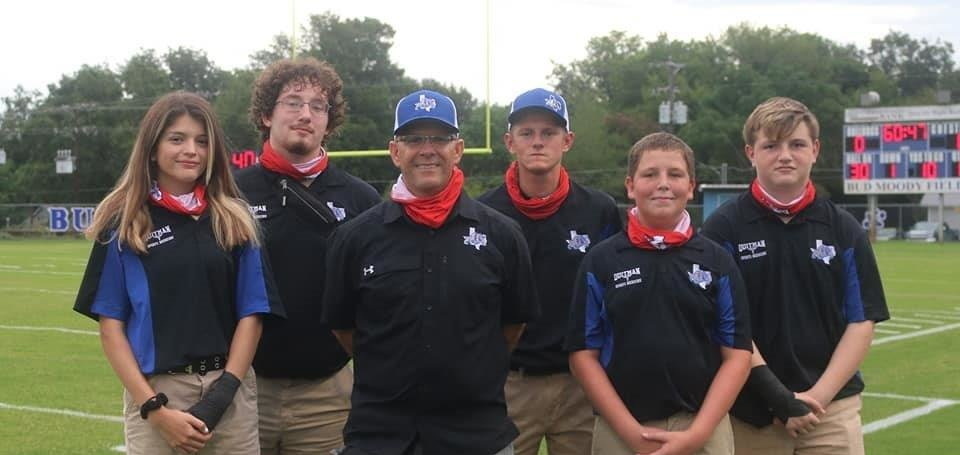 Interest Grows in QISD Sports Medicine Program
Courtesy of Wood County Monitor
Thursday, November 19, 2020
The Quitman High School sports medicine program continues to grow.
"We have a great program here at Quitman," Head Athletic Trainer Scotty Almon said. "Our facilities are second to none and as good as a lot of 5A and 6A programs. We have been working really hard to get kids interested in this field where the demand for trainers is growing."
Five students are active in the program – one senior, a junior, two sophomores and a freshman. Students must be at least a sophomore to take the sports medicine class, but freshmen are allowed to come in after school and be a part of the effort.
Senior B. Mattox has been with the program since Almon arrived three years ago.
"My sophomore year I went to get a physical and they said I had a heart murmur, an irregular heartbeat. I got into helping Mr. Almon with the water bottles and he suggested I join the sports medicine program," Mattox said. "I have gained so much from the program. Basically I learned anatomy and physiology, taping skills, injury assessments, splinting and casting. One of the worst injuries here I have seen was dislocation of a shoulder."
Mattox plans to continue in the field.
"I am going to go to TJC and get my two years in and then go somewhere else to finish a program," he said. "I realize at the college level athletic training can be stressful. I want to be an athletic trainer at the high school level."
Junior E. Phillips said watching the trainers and all the things they were doing got him interested in becoming a part of the program.
"I have already learned to tape an ankle, treat minor injuries, how to tell when an injury is swollen and when it's not," Phillips noted. "I do plan on going to college to be an athletic trainer. One of the most important things I have learned is how to treat an injury when it happens."
Sophomores B. Spann and G. Saveera are in their first year in the program.
Saveera said being the only female in the program can be difficult sometimes.
"But at this point, I'm just like one of the boys. I'm not a girly girl or anything like that," Saveera said. "I haven't thought about it a lot, but I may want to be a college athletic trainer or I may go into psychology."
Spann started in the program as a freshman, coming in after school until this year when he was accepted into the program.
"I have learned a lot about hard work and getting the job done. He (Almon) has taught us a lot about taping," Spann said. "In the future I either want to do this or be a basketball or football coach."
Freshman A. James comes in after school.
Almon is a native of Cumby where he graduated from high school, and he has a degree from East Texas State University (A&M Commerce) and athletic training certification from SMU.
Almon came to Quitman three years ago to be the district's head athletic trainer and start the sports medicine program for QHS students.
"I have had such great support here from our superintendent, Rhonda Turner, and our High School Principal, Dana Hamrick. Without support from the district, this program would not be able to exist," Almon said.
Prior to coming to Quitman, Almon was a trainer who was on call in the northern part of the Dallas area. He served at schools from McKinney to Plano and smaller schools that did not have access to a permanent trainer.
The Quitman trainer's facility is filled with equipment to treat almost any kind of injury or ailment a high school or junior high athlete could have. There is a hydro-therapy room with several pieces of equipment from whirlpools to smaller machines to deal with specific injuries.
Almon made the decision to go into training after graduating from college.
"I finally determined that I didn't want to just coach and teach," he said. "I had a couple of athletic injuries and I have had treatment and rehab. I had some friends involved in sports medicine and physical therapy. After finishing at East Texas I applied for physical training and sports medicine programs, and SMU accepted me into their sports medicine program which led to me getting a license."
Coming from a military family, he also seriously considered joining the military.
Almon wanted to be closer to his parents who live in the Sulphur Springs area so he decided to seek work nearby.
The sports medicine program is more than treating injuries, there is also time spent in a classroom setting which Almon conducts in the training facility.
"We have our class time right here. We pull in some desks and get busy," Almon added. "The kids have to take tests over their classroom subjects as well as what we do here."
Almon has two grown children, Emily and Manuel, who are in the dental field. He is a newlywed, and his wife, Carol, is a nurse.
They attend Freedom Church of God in the Emory area and have enjoyed working with the food pantry through the church.
Almon decided to bypass going into the professional sports ranks, because he wanted a family and children.
"The pro level is more for a single person because you are so involved on a daily basis and there is a lot of travel. I wanted a family," he said.
He talked about his hopes for the program.
"I have consistently had about five students each year. I really want to increase the number of students in the program. We are pretty busy and sometimes we have as many as 15 athletes per day being treated here at our facility," Almon said. "This program at the high school level is mostly a stepping stone for college. They are learning medical terms and they watch me do injury assessments and watch me work on treatment plans."
As far as advice for a student interested in getting into athletic training, Almon is positive.
"This field has a great future. It is considered a medical field and there is the field of orthopedics, sports medicine and licensing for trainers," Almon concluded. "You can also make a good salary."
Almon believes the program is important.
"The bottom line is I get to teach some form of education at all times in the program here. I try to get my students ready for that next level," Almon said. "It is our hope to the student athletes to help them recover as soon as possible to get back to their sport. If an injury is serious, we refer athletes to an orthopedic specialist."
It is Almon's hope for the program to grow and QHS will educate young people in the field of athletic training with hopes of a secure future in the field.